14 Nov

Fòs Feminista and JDC Events Project Manager Earn International Facilitator Impact Award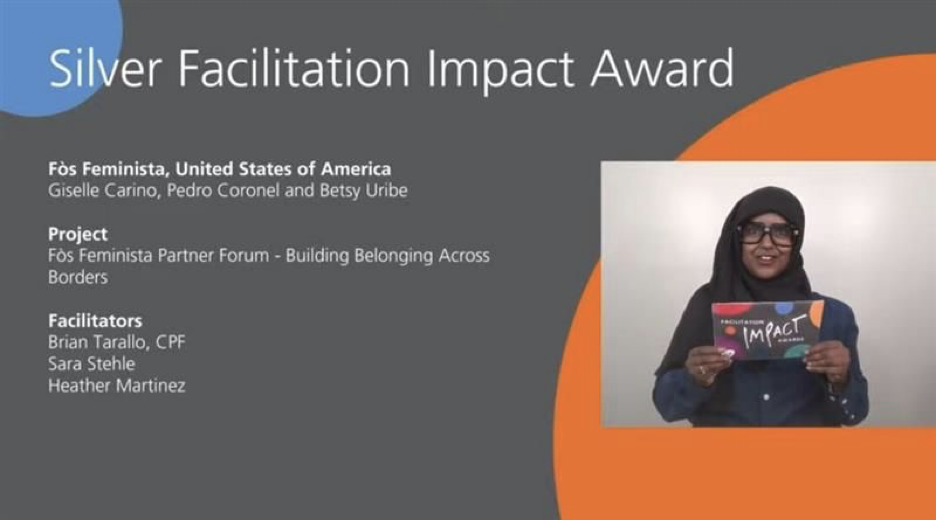 JDC Events client Fòs Feminista, JDC project manager Sara Stehle, CAE, CMP, and Brian Tarallo, managing director of Lizard Brain, were awarded the Silver Facilitation Impact Award by the International Association of Facilitators (IAF) on November 2, 2023. IAF's annual award winners are selected for projects that highlight the power of collaboration in promoting dialogue, diversity, and effective facilitation on a global scale.
JDC's Sara Stehle notes: "This award represents countless hours planning, rehearsing, and executing the virtual Fòs Feminsta Partner Forum, which was live-streamed to over 30 countries in four languages this past February. I cannot tell you how amazing it was to work with such wonderful and talented people and feel so honored to be part of this award!"
Fòs Feminista is an intersectional feminist organization centered around the sexual and reproductive rights and needs of women, girls, and gender-diverse people. They chose JDC to help in the production of their Partner Forum. Lizard Brain was selected to provide graphical facilitation services, giving the event an immersive element and enhancing communication through visual interpretation of the event sessions. Team members from all three organizations worked collaboratively to contribute to the success of this event.