23 Dec

Why Mobile Bidding is Essential to Fundraising Events

Mobile bidding can work wonders in boosting your efforts to raise money for a cause. If you're not including mobile bidding in your auction events, it's likely you're leaving donation dollars on the table.

What is mobile bidding?
It's a convenient, paperless method for your donors to place auction bids directly from their mobile devices in real time. Mobile bidding helps streamline the donation process, making it easier for donors to give and more convenient for event planners to manage logistics.
With mobile bidding, donations can be made in just a few clicks, leaving less risk of bidders second-guessing or abandoning bids. There are no confusing or messy sign-up sheets to contend with, either, since bids are processed digitally through apps designed to manage the process.
Features of mobile bidding software include:
Event promotion
Many apps include solutions for promoting your event in advance through social media to help increase attendance and donations. If you are using mobile bidding, be sure to communicate that with your participants early. You may even want to use it as an early-registration incentive.
Event registration
Many apps feature a registration portal that can make signing up for the event a smooth process – for participants and for your team.
Ticket-selling
Apps that have a ticket-selling function can help you get a better idea of attendance numbers in advance.
Procurement
This feature is a time-saver for event managers, allowing you to acquire and track items throughout the auction.
Cataloging
Your auction items are cataloged in the app, giving bidders a chance to see the available items.
Easy bidding
With just a few clicks, event participants can then place their bids on one or more items.
Payment processing
Most apps also process payments, giving your event planning team an easy resource for collecting payment for auction items.
Bid notifications
Most apps alert winning bidders when the auction is complete. You can also use the app to alert your bidders about the progress of bids or when an auction is about to close. Some apps can even notify bidders when they have been outbid, encouraging them to up their pledge and build donations.
Raffles
In addition to auctions, some apps include a feature that allows planners to hold a digital raffle. You can sell tickets, hold the drawing, and then notify winners – all through the app.
Online auction
Some mobile bidding apps include an online auction feature that allows you to set up a website where fundraising can continue year-round.
Flexible format
Depending on the app's features, you can extend the bidding time frame to include pre-event bids. You can also sell items for a fixed price, or keep unsold items posted online after the end of the physical event.
Event management
Mobile bidding apps store records, minimizing the need for manual data entry (and mistakes). Some apps can even integrate with your event management software, giving you a seamless feature to help better organize fundraising efforts.
If you're using a mobile bidding app for your auction, establish a special page on your organization's website and posts videos on social media to explain how it works. Add a link from the registration page so that participants start learning about the app early and get excited about using it. Include news about the app in mailers, emails, and other messaging, and be sure to keep the conversation going at the event itself with signage, handouts, periodic announcements, information-providing bidding helpers or ambassadors posted throughout the venue. A fun training session can also be helpful.
Choosing Between Mobile Bidding Apps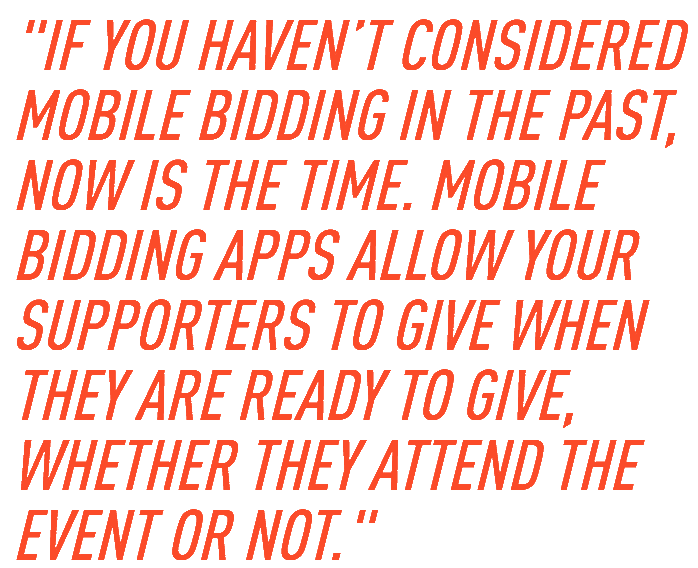 There are a number of choices when it comes to mobile bidding software. When researching for the best app for your fundraiser, compare the different services and determine which has the features you need, and which features you can do without.
Mobile bidding works for any and every type of organization: advocacy groups and community associations, political groups and philanthropic organizations, even schools and student clubs.
Understanding the mission and goals of the group can help you determine the best app to use.
Who are the target donors?
Are they tech savvy?
Do they prefer anonymity?
Apps come in downloadable or browser-based options, so knowing your audience can help you determine which app is better suited to the organization.
Once you've chosen the software, look for ways to increase engagement with it. Encourage friendly bid-offs, send real-time updates, recognize top donors, and keep a running scoreboard of donations.
Whatever app you choose, be sure your team is well-versed in its use. Also ensure that the event venue has free Wi-Fi and adequate bandwidth to handle the maximum number of bidders during the event. The last thing you want is a hiccup when you're trying to streamline fundraising and boost donations.
---
The bottom line: If you haven't considered mobile bidding in the past, now is the time. Mobile bidding apps allow your supporters to give when they are ready to give, whether they attend the event or not. By engaging when and where it's convenient for them, you can strengthen your donor relationships while maximizing your fundraising efforts.