20 Feb

7 Imaginative Seating Ideas

You better sit down for this one … traditional chairs just don't cut it anymore. Engaging today's event attendees requires unique and imaginative seating that reflects the modern, mobile and increasingly technology-driven participant. Today's event planners understand that capturing their audience means doing something different, and incorporating contemporary, casual, and fun styles is an effective way to inspire attendees.

Planners now have many more options than standard chairs when it comes to selecting seating for events. Consider these seven imaginative seating ideas that show how innovative chairs can be used to accent the décor:
Beanbag Chairs: No longer simply a novelty, these chairs have come a long way since the '70s. Beanbags, such as these from Event Prop Hire, work well for both indoor and outdoor events, as well as for either casual or sophisticated stylings. Use them alone or combined with more traditional seating designs to make a relaxing environment for everything from general sessions to keynotes, or welcome receptions to lounge areas.
2. Illuminated Furniture: Illuminated furniture, such as LED sofas, chairs, tables, bars, and high-tops, is a fun way to energize events. Use them with other illuminated pieces, such as columns or ottomans, or pair them with more traditional lounge seating. Check out these from Eternity LED Glow.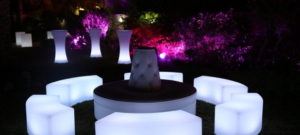 3. Giant Blocks: Modern shapes and styles, especially those eliciting a bit of nostalgia, are an increasingly popular design trend at meetings, trade shows, and conferences. Use these Lego-inspired pieces from EverBlock for funky designs or pod styles for a bold alternative to lounge seating.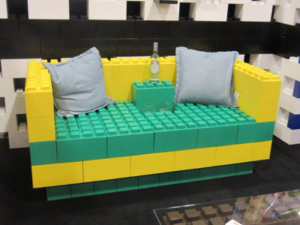 4. Stability Balls: Usually seen in gyms all over the world, stability balls, such as these from Technogym, are a smart seating choice for incorporating wellness into your meetings. By helping to improve posture and relieve stress, this seating alternative helps to promote physical and mental wellness. Consider adding an energizing yoga session using the stability balls before the meetings or as part of a healthy break.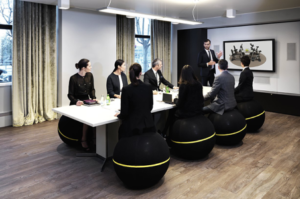 5. Floor Seating: If you are looking for virtually free event planning ideas, then this is a seating option that you can make do with any variety of different cushions, pillows, blankets, or rugs. Place around the floor for an eclectic, bohemian feel to your event.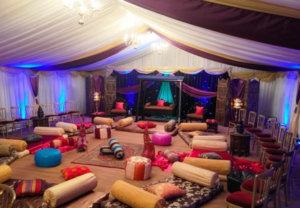 6. Smart Benches and Chairs: With various aspects of technology being incorporated into events, it's a great idea to also integrate tech into your seating by having "smart" benches or chairs that include things such as charging ports or WiFi hotspots. To encourage more traffic around your booth, this would be a clever tradeshow idea. Gain inspiration from these benches by Steora.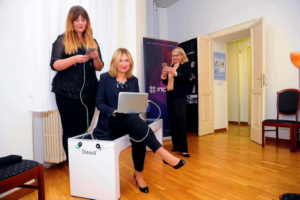 7. Indoor Swings: Whether your event is serious or fun, add an element of amusement with indoor swings as a seating option. These can be both entertaining and create a buzz around the event.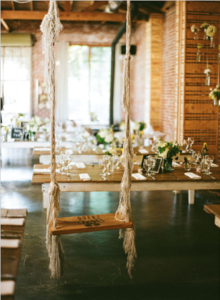 No matter which seating style you choose, the most important thing to make sure the participants are comfortable. Depending on the theme for your meeting, your seat choice can work to enhance the overall ambience of your event and make it one to remember.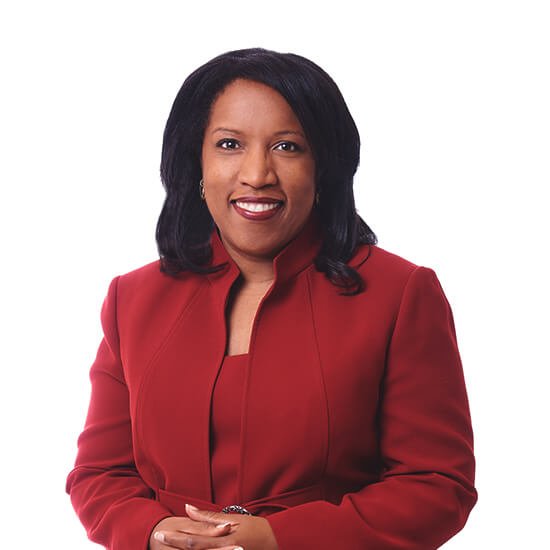 Jennifer D. Collins is the founder, President, and CEO of JDC Events. She is a Certified Meeting Professional (CMP), Digital Events Strategist (DES) and well known events industry thought leader. She is Vice Chair of the Board for WBEC Metro NY and WBEC Greater DMV, a member of the Women's Presidents Organization (WPO), and the Author of Events Spark Change: A Guide to Designing Powerful and Engaging Events.